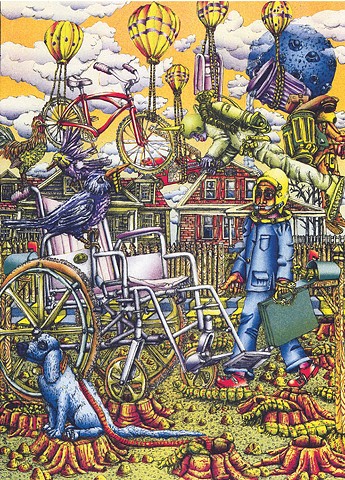 "Passing Time"
Four Color Plate Lithograph Digital Assistance to generate color films for photo plates.
13.75" x 10"
Completed as part of the Sleep Walking Portfolio. Organized by Liz Klimek, Corcoran School of Art. Southern Graphics Concil International Portfolio. Presented at the SGC International Philadelphia, PA.
"Sleep Walking extends an invitation to a number of artists to consider the involuntary side of art making. Between ideas and finished works there is often an unknown creative boundary continuously crossed by artists. The circuitous notion of marks and remarks, of boundaries and playfulness, of awareness and unconsciousness all extends into the work of these artists.The artists chosen for this portfolio practice both the processes of making prints as a guiding hand in art making, and the creation of images that serve to illustrate the ill considered and the unknowable"
Participants include Nicole Andreoni, Ryan Burkhart, Matt Egan, Susan Harrison, John Hitchcock, Mark Hosford, Elizabeth Klimek, Andrew Kozlowski, Heather Muise, Jenny Schmidt, Tanja Softic, Judy Southerland, Barbara Tisserat, and Melanie Yazzie.